Out of the box mechanical keyboards are a great choice for newer users looking to jump into the hobby of mechanical keyboards. They are great for those of us that don't want to or know how to properly solder. The Drop (Massdrop) ALT keyboard is a fantastic plug and play mechanical keyboard to try out.
Drop, formerly known as Massdrop, created a few mechanical keyboards alongside the input of their large community of enthusiasts. Their 65% keyboard option is the Drop ALT, equipped with a number of features that anyone who uses a keyboard would enjoy.
Sleek and durable build
Hot-swappable board
Beautiful RGB lighting
QMK firmware isn't great
Limited RGB lighting pattern options (for beginners to QMK)
Drop ALT Mechanical Keyboard Details
Packaging and Contents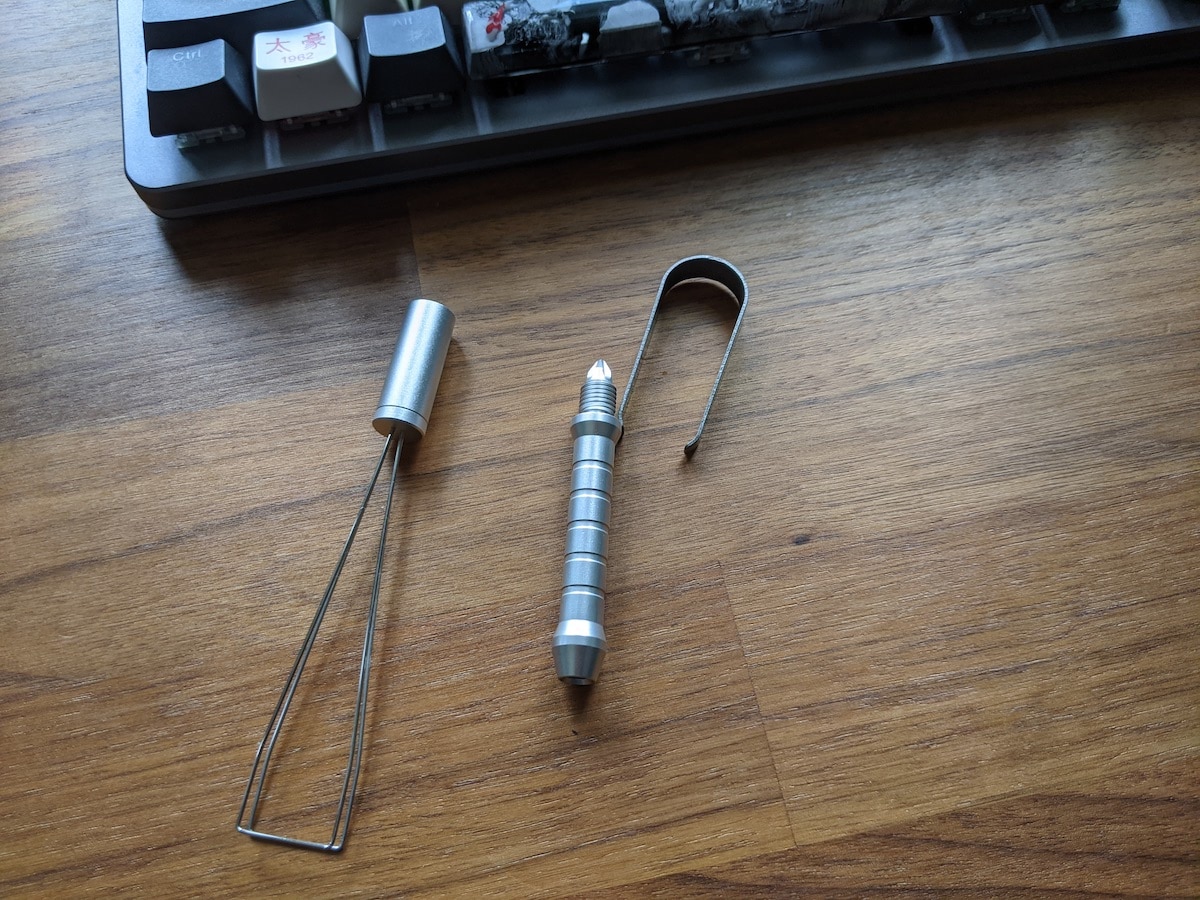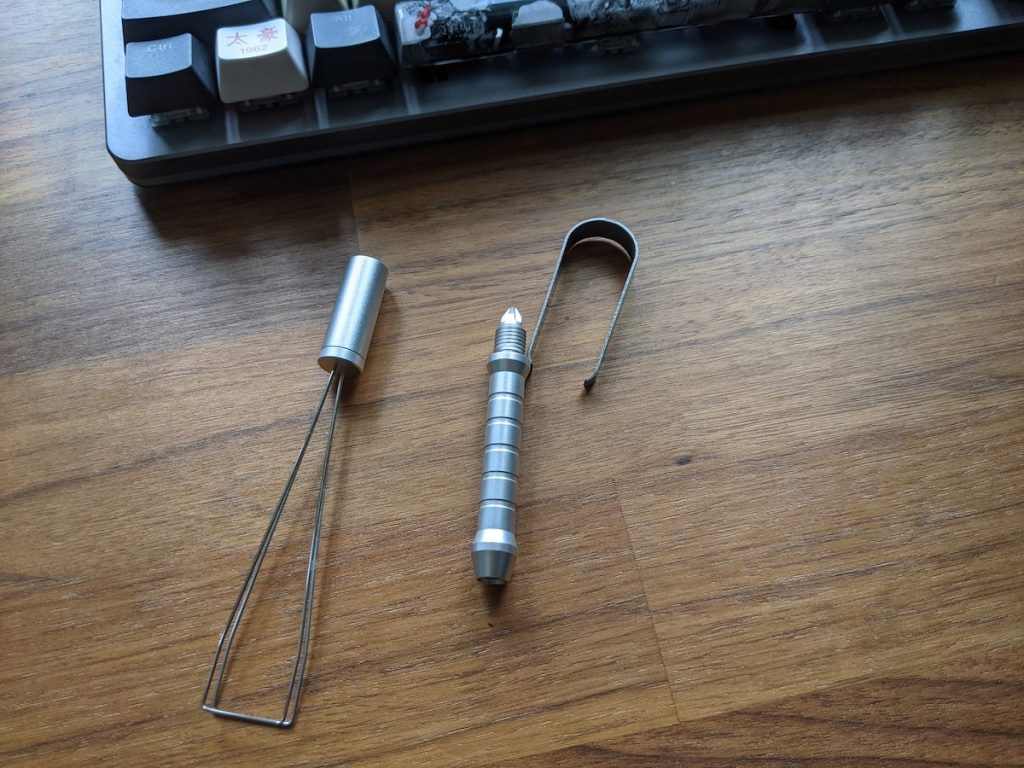 The Drop ALT comes in a secure box with a solid built aluminum keycap puller, keyboard switch puller, and 56 inch USB-C male to USB-A male cable. If you unscrew the bottom piece of the keycap puller, you'll find a hidden screwdriver that fits the screws on the Drop ALT mechanical keyboard.
Features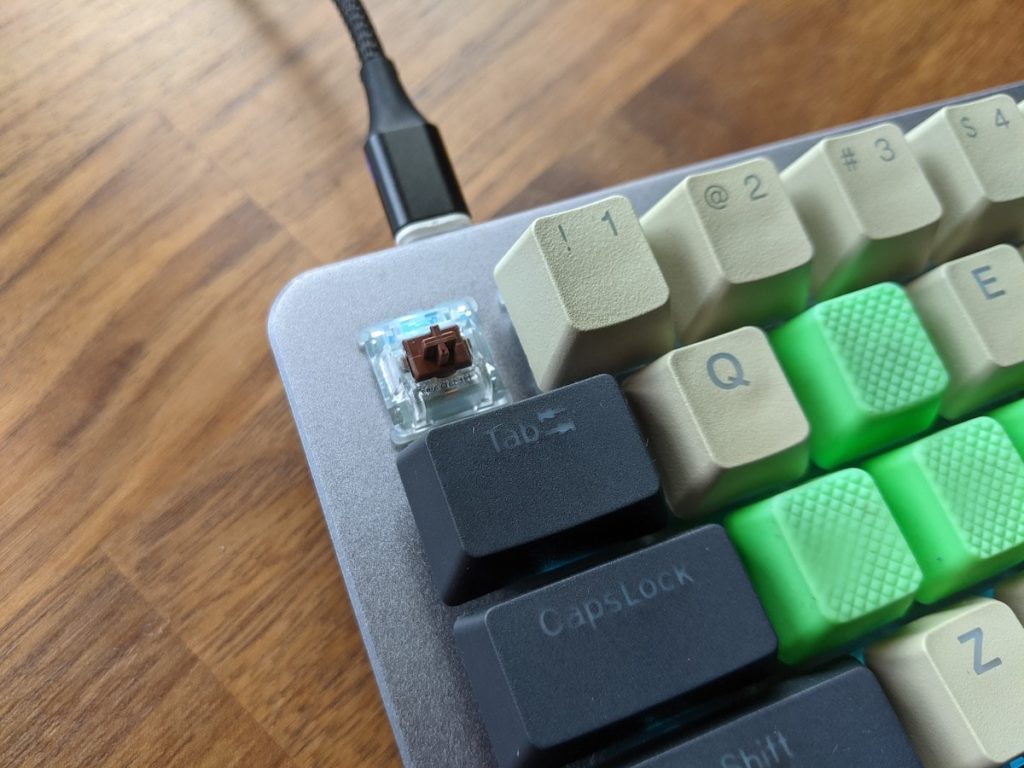 There are 67 keys on the Drop ALT keyboard, which is housed with an anodized CNC machined aluminum frame and magnetic feet to match. The PCB is hot-swappable, allowing you to change out switches to your heart's delight. Additionally, there is vibrant RGB lighting on the frame of the keyboard and on the board.
With QMK, you can customize your keyboard with any configurations and RGB lighting you'd like.
You have the option to choose between black and space gray for the case, and a various type of switch types to have installed. For an additional cost, the Drop ALT keyboard can be purchased in a high profile version that covers the switches, compares to the original ALT.
Case options:
Black
Space gray
Black High-Profile (Additional cost)
Space Gray High-Profile (Additional cost)
Switch type options:
Halo Clear (65g Tactile)
Halo True (60g Tactile)
Kaihua Box White (Clicky)
Kaihua Speed Silver (Linear)
Cherry MX Blue RGB (Clicky)
Cherry MX Brown RGB (Tactile)
Summary of features:
67 keys
Anodized CNC machined aluminum frame
Custom PCB
Hot-swap switch sockets
QMK firmware
Plate-mounted Cherry-style stabilizers
Cherry MX, Kaihua, or Halo switches
Doubleshot PBT shine-through keycaps
Floating key design
Dual USB-C connectors
PCB compatible with 3-pin plate-mount switches only
Weight: 24.5 oz (696 g)
Dimensions with OEM keycaps: 12.67 x 4.41 x 1.26 in (32.2 x 11.2 x 3.2 cm), 1.57 in (4 cm) height with magnetic feet attached
Cost
The Drop ALT mechanical keyboard starts at $180 USD and comes with everything you need to plug in and start clacking away. If you prefer a high-profile version that covers the switches, you can buy that for $230.
Drop does ship out at various intervals, so you may expect your keyboard to come in a little bit slower than most packages these days. But if you're itching to get your hands on the Drop ALT as soon as possible, you can find it on Amazon for a slightly higher markup (still sold by Drop).
DROP ALT Mechanical Keyboard — 65% (67 Key) Gaming Keyboard, Hot-Swap Switches, Programmable Macros, RGB LED Backlighting, USB-C, Doubleshot PBT, Aluminum Frame (Cherry MX Brown, Black)
A COMPACT LAYOUT: The ALT mechanical keyboard is a smaller take on Drop's CTRL model. It features 67 keys instead of 87. Absent of function keys, it wastes no space—but it still has a full set of arrows and numerals.
A SOLID BUILD: Constructed with a solid aluminum frame with a built-in switch plate and magnetic legs, the ALT is rock-solid and ready for any setup.
CHERRY MX BROWN RGB SWITCHES: This ALT model comes equipped with Cherry MX Brown switches, which have a tactile bump, silent travel, and medium actuation force—great for both typing and gaming.
HOT-SWAPPABLE SWITCH FUNCTIONALITY: Want to switch your switches? Customize the ALT with ease thanks to hot-swappable switch sockets, which allow you to swap switches in seconds—no soldering required.
OPTIMIZED PER-KEY LIGHTING WITH MILLIONS OF COLORS: The ALT is illuminated with fully customizable RGB backlighting and under-lighting. Set your millions of LEDs to a single color or light them up with custom rainbow wave patterns.
DROP ALT High-Profile Mechanical Keyboard — 65% (67 Key) Gaming Keyboard, Hot-Swap Switches, Programmable Macros, Backlit RGB LED, USB-C, Doubleshot PBT, Aluminum Frame (Kaihua Speed Silver, Black)
A MECH KEYS FAVORITE, NOW IN HIGH PROFILE: The Drop ALT High-Profile is just like the original ALT, but now it comes with a tall CNC-aluminum case that covers the switches.
THICKER, HEAVIER FRAME: The ALT High-Profile is constructed from a large block of anodized aluminum, nearly twice as heavy as the original ALT. The keyboard is heavy enough to stay put when you're locked into an intense FPS match.
KAIHUA SPEED SILVER SWITCHES: Utilizing the popular Cherry MX form, these speedy linear switches are made with 3. 5 millimeters of total travel with 1. 1–1. 4 millimeters of pre-travel. They're easy to press and boast a 70-million lifetime click rating.
HOT-SWAPPABLE SWITCH FUNCTIONALITY: Want to switch your switches? Customize the ALT High-Profile with ease thanks to hot-swappable switch sockets, which allow you to swap switches in seconds—no soldering required.
OPTIMIZED PER-KEY LIGHTING WITH MILLIONS OF COLORS: The ALT High-Profile is illuminated with fully customizable RGB backlighting and under-lighting. Set your millions of LEDs to a single color or light them up with custom rainbow wave patterns.
How We Tested
To test out the Drop ALT we paid attention to a number of factors when typing away doing our various computer activities. Looking at build quality, design, software, and customization, we were able to understand if the keyboard was a worthwhile purchase.
About Our Drop ALT Board
For our board, we switched out the keycaps for Tai-Hao 2-Tone PBT Double Shot Backlit Keycaps in Cream/Dim Gray. Because the keyboard is used for gaming sessions, rubber keycaps were subbed for WASD.
You'll also see various custom keycaps, with clear keycaps for the media keys, a black and white koi resin spacebar, and a Jelly Key (The Rehabilitation of Lost Cities) keycap for Esc.
We also use a magnetic USB-C cable with adapter because we are always plugging and unplugging in between mechanical keyboards.
An Out of the Box, Solid Beautiful Choice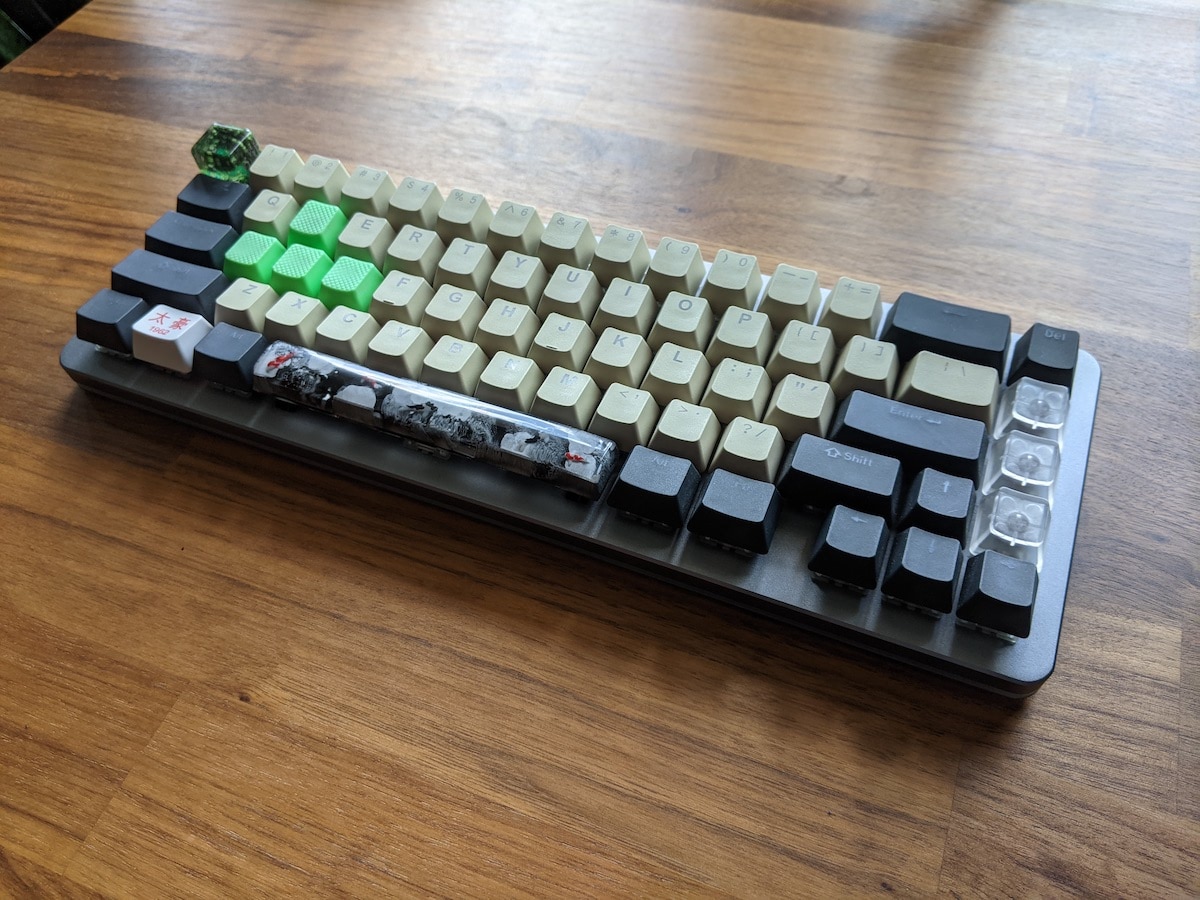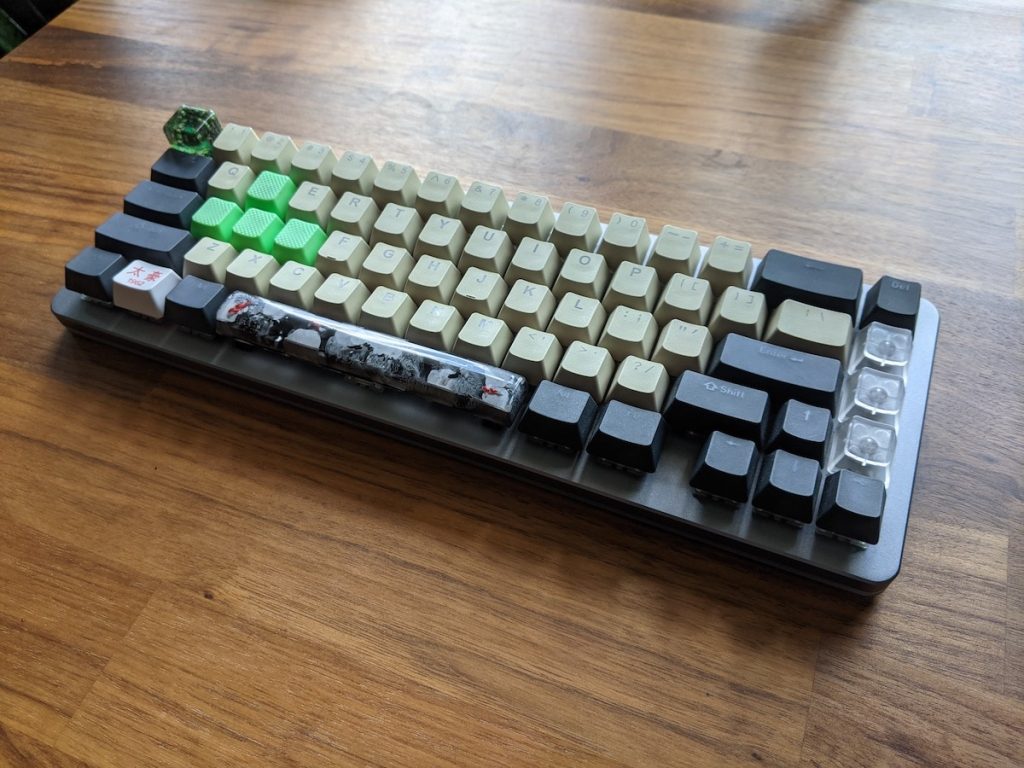 Build Quality and Durability
The build quality of the Drop ALT is top notch. The case is a solid aluminum that is machined well without any imperfections. There are also aluminum magnetic feet that stop the keyboard from sliding around on your desk. There are also rubber feet on the four corners of the bottom of the frame. Overall, the board has some heft to it, weighing in at a little bit over 1.5 pounds. The weight of the keyboard feels dense and will ensure it moves around less on your desk.
The keycaps are backlit doubleshot PBT which means that these keycaps are unlikely to develop a shine and wear out as quickly as ABS keycaps.
You can tell the build quality is high because of the attention to detail of the accessories that it comes with. The keycap puller (which doubles as a screwdriver for the board) and keyboard switch remover, are made of the same aluminum as the case.
With these features, the keyboard is certainly durable and will stand the test of time.
Design
With 67 keys, the Drop ALT is a 65% tenkeyless keyboard that has all the keys you need to start typing away. With this size, you're missing the function keys on the top row, but these can be accessed with the function (Fn) key with the corresponding number keys.
Compared to other mechanical keyboards of similar size, the Drop ALT has three editing/navigation keys over to the far right and arrow keys right under neath those.
If you're feeling like there are button options that are missing, you can access these in different layers. Some options are already preset, which you'll have to look at QMK or Drop's configurator for. Or if you prefer to have certain options to your liking, you can customize those layers.
On the top of the board, there are two USB-C connectors on the right and left side. This is great for being able to plug into the keyboard based on your desk setup. Also, it can be used as an extension for any other peripherals like a mouse, USB drive, etc.
Because there are so many LEDs on the board, it does require full power. We've noticed that in some cases when we plug the board with a different USB cable and chain another peripheral to the second USB-C connector, the lights dim. Use a cable that is of high quality and is shorter than 5 or 6 feet to make sure the keyboard draws enough power.
Software
To customize the buttons on the keyboard, you have to use QMK Firmware for that. Luckily, Drop has a configurator (powered by QMK Firmware) specifically for the Drop ALT which is a little bit more intuitive than the QMK website. There is a little bit less customizability, but the interface is cleaner and straightforward.
With both, you can change the LEDs of the board, whether that is for each key/switch or around the frame of the board. There are scrolling option, multi color options, and more.
If you decide you want more customizable lighting features, you'll have to familiarize yourself with the QMK Firmware. You can write your own code or grab other users code from the community to flash onto your board.
https://drop.com/mechanical-keyboards/configurator
Customization
Just like most mechanical keyboards, customization along the lines of being able to choose your own keycaps, mod stabilizers, and as mentioned above, adjust the RGB and buttons. Another great feature of the Drop ALT is the hot-swappable PCB. When you first purchase the board, it comes installed with the mechanical keyboard switches you choose. But if you decide you want to use different switches or drop different types of switches into different areas, that is a possibility.
Additionally, there are a number of custom colored cases that Drop sells if you're interested in taking it apart and going in that direction. With beautiful aluminum colorways like midnight green and burgundy, there are a number of ways to customize this mechanical keyboard to your liking.
DROP ALT Aluminum Case - Anodized 65% Low-Profile Aluminum Case
ADD A LITTLE COLOR TO YOUR ALT: Searching for new ways to customize your ALT keyboard? We're on the case—literally
FIVE CUSTOM COLORWAYS: Returning to the same proven CNC-machining process used to make the original ALT, we've built a brand-new line of aluminum cases in five custom colorways
ANODIZED ALUMINUM FEET: Anodized with a vivid, non-toxic finish that won't fade, each case comes with matching aluminum magnetic feet for easy height adjustment
INCLUDED: Anodized Aluminum Case, 2 angled aluminum feet, 4 magnets for angled aluminum feet, case screws, and rubber pads
LED DIFFUSER (REQUIRED FOR MASSDROP ALT KEYBOARDS): If you own an original Massdrop ALT keyboard, you'll need to purchase a plastic LED diffuser (available as an add-on here) in order to ensure that your new ALT case fits properly. Owners of the newer Drop ALT keyboard do not need to purchase this diffuser
Final Thoughts
We love the hot-swappable board. Being able to swap out switches for newer ones is a plus, especially as our collection continues to grow. The design and layout of the board is great as well, because of the ability to navigate documents with the three navigation keys and arrows.
It's clear that Drop took the support and feedback of the community to heart when developing this mechanical keyboard. Out of the box, it just works. Not only that, it looks beautiful, has customization features for most mech keyb enthusiasts, and is solidly built.
You can't go wrong with the Drop ALT mechanical keyboard if it's your first or your last. But let's be real, it won't be your last. 😉